Hello, Neighbor!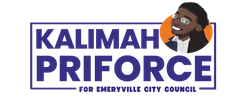 For ten years, I've had the honor of grocery shopping with you, watching fireworks brighten the sky over our rooftops, and have smiled as you cradled your newborn in your arms while walking your dogs as I pedaled by on my bike.
Together, we faced Covid's effects on our families, our homes, and workplaces, and were forced to be distant - socially, but carried each other through uncertainty - with empathy. It's that empathy that drives my Equitable Growth platform to be your next city councilmember by making Emeryville, the city of the future, a better place to work, live, and play for all of us, newcomers, legacies, and everyone in between.
Join my family to help me build an Emeryville that works for everyone: Renter & Homeowner, Business & Non-Profit, Artist & Activist, South Emeryville & North Emeryville - - all of Emeryville.
Donate. Endorse. Volunteer.
Be The Change. Vote Priforce.
- Kalimah Atreyu Priforce
Support existing affordable housing, transportation, and climate plans that increase affordability and mobility.
Afford police force with more evidence based tools rather than militarized toys to address crime spikes.
Increase attention to living conditions for low-opportunity and elderly communities and make city hall accountable to them.
Allocate housing vouchers to recruit teachers, fire, police, and labor union members.
Involve unions in key development decision making.
Secure new sources of funding to extend minimum wage and fair work week policies.
¶ Foster Local Innovation to Keep our Businesses and Non-Profits Alive
Incentivize support from our biggest companies to subsidize locally-grown businesses and non-profits.
Create an attractive environment for innovators and experts on the unhoused.
Invest in the future of Emery High School students similar to "Oakland Promise" that provides scholarships, career mentorship, and internships.
Every day I take another steps towards being the change I wanted to see in the world. That is why i chose this as our campaign message and why I refer to supporters as "changemakers."
Opportunity For All
Growing up an orphan in a Brooklyn group home, I hacked my eighth grade records to get into the school of my dreams. My high school principal, rather than kicking me out, gave me the opportunity to keep my place among her students, became my mentor and modeled for me what it means to transform children's lives and create a life dedicated towards public service. She taught me that opportunity should be accessible for everyone. If it takes a village to raise a child, what does it take to raise a village? Emeryville is our village, and politics shouldn't get in the way of us working together to raise our village.
Obama White House Champion of Change
Starting my first tech company at sixteen, I sold it at nineteen and used what I earned to see the world and support myself through college. During my freshman year, my eighteen-year old brother was shot and killed. I moved to the East Bay to form a company, named after him, that helped pioneer the Learn-To-Code movement. As a result of my groundbreaking leadership in closing the digital divide, Pres. Obama's administration recognized me as a Champion of Change. Since then, I advise non-profits and small businesses around the country to make their bottom line be about people. Not just a White House champion, I want to be YOUR champion of change in city hall.
Grassroots Leadership
Emeryville is one of the most unaffordable cities in America with below average livability. Affordable housing isn't enough if affordability is out of reach. Opportunity for income gains, financial stability, lowered living costs is more than a campaign promise for me, it's the way I see the world as it should be. That is why I formed a tenant board that pressured property managers to clean up their acts and honor their lease agreements with fellow residents and a neighborhood watch to help keep an eye on the rising tide in crime that I will make every effort to thwart as your next city councilmember.
Be the change you want to see in the world is attributed to Mahatma Gandhi, but that's not exactly accurate. Here's what he actually says:
"We but mirror the world. All the tendencies present in the outer world are to be found in the world of our body. If we could change ourselves, the tendencies in the world would also change. As a man changes his own nature, so does the attitude of the world change towards him. This is the divine mystery supreme. A wonderful thing it is and the source of our happiness. We need not wait to see what others do." – Mahatma Gandhi
I'm a big fan of that last line: We need not wait to see what others do. That is definitely how I approach social change. Lead and the rest will follow.
Government can not and should not solve all our problems. What government can do is make certain that obstacles are removed from the trajectories of people's lives, safeguard public health and safety, and ensure that laws are adhered to that do not contradict the human condition.
Be the Change invites everyone to participate in public service for public benefit. That is why I am running for office.
There will be lots to unpack that I will be posting to this platform. Since these are "static" pages, discussions and comments will be located at the Vote@Priforce public forum.
Don't forget to register to vote here and thank you for allowing me to serve.
Special shoutout to Phil @ Hostwiki.com. For all your Wiki.js needs, check out Hostwiki. They are the best at what they do.